Marjorie Taylor Greene on Monday hit took to Twitter to hit back against the Biden White House for attacking the Georgia congresswoman for remarks made at this weekend's New York Young Republican Club Gala.
Greene made a sarcastic comment regarding the January 6th Capitol Riot, "I got to tell you something, if Steve Bannon and I had organized that, we would have won. Not to mention, it would've been armed." The comment was made in reference to Democrats constantly accusing MTG of "planning an insurrection", and was meant to be a joke highlighting just how absurd the accusation is.
"The White House needs to learn how sarcasm works," the congresswoman wrote in a statement. "My comments were making fun of Joe Biden and the Democrats, who have continuously made me a political target since January 6th."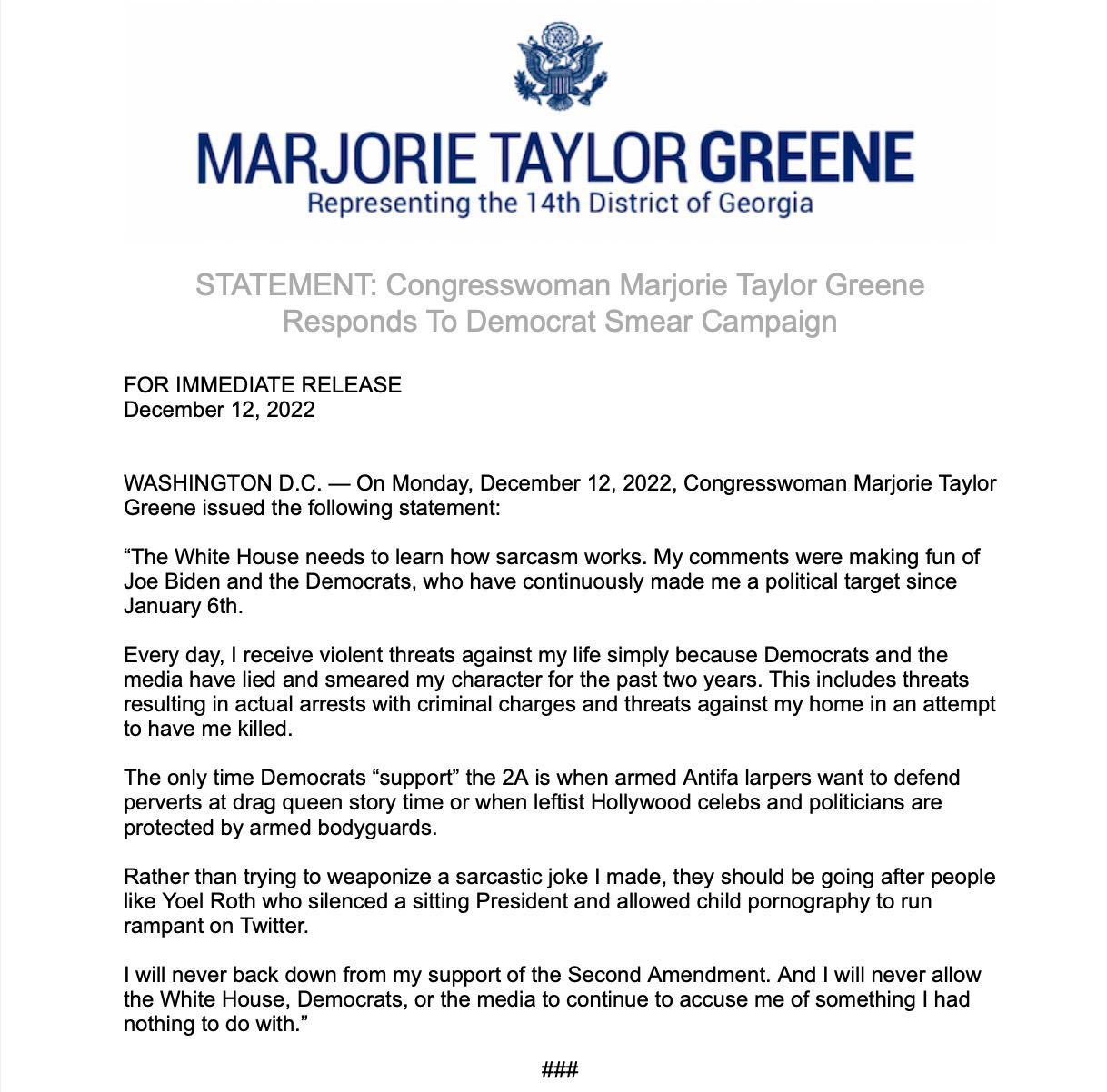 "Every day, I receive violent threats against my life simply because Democrats & the media have lied and smeared my character for the past 2 years. Including threats resulting in actual arrests with criminal charges & threats against my home in an attempt to have me killed," MTG continued.
The only time Democrats "support" the 2A is when armed Antifa larpers want to defend perverts at drag queen story time or when leftist Hollywood celebs and politicians are protected by armed bodyguards.
Rather than trying to weaponize a sarcastic joke I made, they should be going after people like Yoel Roth who silenced a sitting President and allowed child pornography to run rampant on Twitter.
I will never back down from my support of the Second Amendment. And I will never allow the White House, Democrats, or the media to continue to accuse me of something I had nothing to do with," Greene concluded.
Watch Marjorie Taylor Greene Makes Sarcastic Comments Over J6 Accusations: